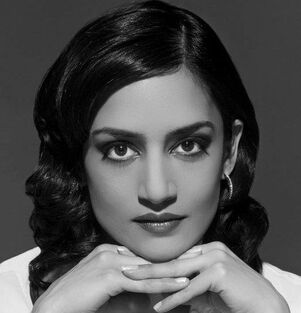 Archie Panjabi (born May 31, 1972) is an English-born actress who provides the voice and likeness for Catherine Howell in Dead Space: Extraction.
Biography
Edit
Archie Panjabi (birthname Archana Panjabi) was born on May 31, 1972 in Edgware, Middlesex, England. She graduated from Brunel University, England, with a degree in Management Studies (BSc) with a 2:1. She made her film debut in the British hit East Is East. Since then, she has continued to work on international blockbuster films, from Bend It Like Beckham and The Constant Gardener to critically acclaimed films like A Mighty Heart. Archie always knew she wanted to become an actress. It was only when Nick Berry from "EastEnders" replied to a letter did she find an agent and roles. Her most recent role is as Kalinda Sharma on The Good Wife.
Archie Panjabi, Joseph May, and Laura Pyper have all acted in Holby City.
She has a great ear for accents. From Scottish to Indian to American, all of her major film & TV roles have been in accents other than her own.
External links
Edit
Community content is available under
CC-BY-SA
unless otherwise noted.