Main article: List of logs in Dead Space 3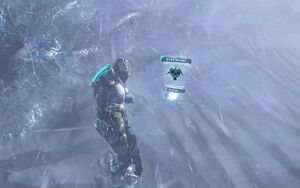 Artifacts are a type of Text Log scattered throughout the New Horizons Lunar Colony, USM Eudora; the Sovereign Colonies Armed Forces Flotilla (Roanoke, Greeley, Terra Nova) and Tau Volantis. Artifacts are used to expound upon and provide a general background on the events that have unfolded prior to the events of the game's beginning.
Acquiring all artifacts counts toward "The Professor" achievement.[1] There are a total of forty Artifacts found in the game. Artifacts come in four different types: EarthGov, Unitologist, S.C.A.F. and Alien.
You Will Also Get The Flight Suit For Collecting All Of The Artifacts. 
List of SCAF Artifacts
Edit
Prologue
Edit
Chapter 3
Edit
Chapter 4
Edit
Chapter 5
Edit
Chapter 6
Edit
Chapter 8
Edit
Chapter 9
Edit
Chapter 10
Edit
Chapter 13
Edit
Chapter 14
Edit
List of EarthGov Artifacts
Edit
Chapter 1
Edit
Chapter 2
Edit
Chapter 4
Edit
Chapter 11
Edit
Chapter 14
Edit
List of Unitologist Artifacts
Edit
Chapter 1
Edit
Chapter 11
Edit
Chapter 14
Edit
Chapter 17
Edit
List of Alien Artifacts
Edit
Chapter 4
Edit
Chapter 10
Edit
Chapter 14
Edit
Chapter 17
Edit
Chapter 18
Edit
Chapter 19
Edit