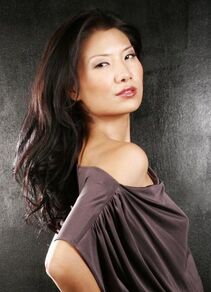 Gwendoline Yeo (born July 10, 1977) is a Singaporean-born actress who provides the voice and likeness for Isabel Cho in Dead Space: Aftermath.
Biography
Edit
Gwendoline Yeo (birthname Gwendoline See-Hian Yeo) was born in Singapore on July 10, 1977. She moved to the U.S. from Singapore to San Francisco as a teenager and then graduated from UCLA. She won national titles of Miss Asian America and Miss Chinatown USA. She then went on to an acting career. Her breakthrough role was her arc on Desperate Housewives in Seasons 2 and 3 cracking people up playing Eva Longoria's naughty maid, XiaoMei. She's also recurred on 24, General Hospital & Grounded for Life, and guest starred on NYPD Blue, JAG and The OC. Her Feature credits include AMC's hit western "Broken Trail" starring alongside Robert Duvall, Hallmark's The Magic of Ordinary Days and Robin Swicord's "the Jane Austen Book Club."
She lends her voice on several cartoon series including Cartoon Network's Zatch Belle, Disney's Safety Patrol, Nickelodeon's Superscout and the new X-Men. Video gamers best know her as "Paine" from Final Fantasy X-2, as well as from various roles in the Mass Effect; Uncharted, and God of War series.
Gwendoline Yeo had a recurring role on the television show, Desperate Housewives, in which she starred along with her Dead Space: Aftermath co-star, Ricardo Chavira.
Yeo and her other Aftermath co-star, Jesse Head, have guest starred in Judging Amy and Hannah Montana.
She also had a role in JAG, just like her other Aftermath co-stars, Curt Cornelius, Ricardo Chavira, and Rick Cramer.
Additionally, Gwendoline and Curt have both been in General Hospital.
Yeo and Chavira have also appeared in NYPD Blue and 24.
Gwendoline, Keith Szarabajka, Ricardo, and Sunil Malhotra have all been in 24.
Yeo, Kelly Hu, and Malhotra all voiced characters in the animated film Green Lantern: Emerald Knights.
Gwendoline and Sonita Henry have both acted in Chuck.
Her nickname is "Yeo!".
Speaks various dialects of Chinese, some French and does karate.
Niece of Singapore's current Minister for Foreign Affairs.
Graduated from the San Francisco Conservatory of Music. Earned a diploma in Classical Piano. Plays the Chinese Long Zither ("gu-zheng").
Graduated from high school at age 16.
External Links
Edit
Community content is available under
CC-BY-SA
unless otherwise noted.