Holograms are projections of light that are commonly used to display objects and information in the Dead Space universe.
Holograms are often used in many devices such as: RIGs, Stores, Benches, control panels, doors, computer terminals, etc. On many of the suits, there is a small holographic projector which hangs off the front of the chest. It is used to display holographic images in front of the wearer of the suit.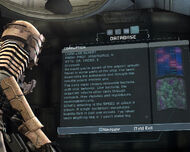 Most visual and control technology appears to be hologram-based onboard Titan Station and the USG Ishimura. The bridge is a prime example, with virtually all display monitors and control pads being holographic.
Types of holograms
Edit
The Vid-Log is essentially a video clip projected by a RIG or monitor. They are usually utilized to send messages or display movies around the ship and colony, as communications or entertainment.
Gameplay wise, Vid-Logs can be found all over the ship by Isaac, and provide some of the backstory behind the events of the game.
Audio-Log
Edit
Audio-Logs are audio recordings, generally consisting of a person's voice.
In-game, they are used in almost the same way as Vid-Logs, and therefore also provide some of the backstory behind the game.
Text-Logs are holographic projections of documents, pictures, and text. They are often used as journals and reports.
Like Vid-Logs and Audio-Logs, they provide backstory in the game.The Locator System is a holographic line projected above the ground by a holographic projector embedded in the left palm of a RIG. It is able to point the user towards a previously specified location. 
Locator System
Edit
Gameplay-wise, it is used by Isaac Clarke to find his way around the dark corridors of the Ishimura and Titan Station, Only Isaac and Nicole has been shown to use the Locator System, but it is presumably built into all RIGs as evidenced by the many suits wearable throughout the game.The locator system is positioned on the left palm 'hole'.
Three dimensional holograms
Edit
Though it seems to usually project flat control surfaces, there are instances where a three-dimensional image is displayed, such as the Aegis VII map in the Captain's Nest, and in the engineering room at the start of Chapter 3
The AI ANTI uses a hologram as part of its interface, there are also holographic 3D maps of sections of Titan Station.
Interface holograms
Edit
Often showing a simple single colour control interfaces these holograms are used for control systems and doors throughout Titan Station and the USG Ishimura
D

ecks like the Engineering and Mining aboard the USG Ishimura employ older control systems alongside holograms. This possibly hints that areas such as the bridge had been kept "up to date" in the Ishimura'

s 62 years of service but the lower industrial decks continued using older technology.

Despite holograms being widespread, normal flat-screen TVs are seen in Chapter 2 of Dead Space 2.