Intimid8r
Weapon Information

Manufacturer:

Unknown

Model:

Unknown

Type:

Cost:

500 Tungsten,
1,850 Semiconductor,
2,900 Scrap Metal

Technical Specifications

Ammunition

Damage (DMG):

??? (DMG)

Reload Speed (RLD):

??? (RLD)

Ammo Capacity (CLP):

??? (CLP)

Rate of Fire (SPD):

??? (SPD)

Weapon Parts

Upper Tool:

Upper Tool Tip:

Directed Suspension Field

Lower Tool

Lower Tool Tip:

Conic Dispersal

Frame:

Attachment 1:

Attachment 2:

Upper Tool Circuits:

+8 DMG, +4 CLP, +4 SPD

Lower Tool Circuits:

+8 RLD, +8 CLP

 
The Intimid8r is a weapon that appears in Dead Space 3. The weapon must be built at a Bench after finding the blueprint.
A stasis-amplified Galvanizer and shotgun, modified to inflict fire damage with each shot.
The blueprint for this weapon can be found during Chapter #.
Technical Specifications
Edit
Statistics
Edit
This section is still under-development. More information will be added soon.
The upper tool  has a 2 (+2 Rate of fire and +2 Damage) and 2 (+2 Damage and +2 Mag) The lower tool has 4 (+2 Reload and +2 Mag). Ammo: 43 upper and 7 lower.
Upper Tool
Edit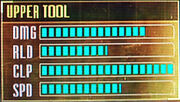 The upper tool of Intimid8r consists of a Military Engine with a Directed Suspension Field Tip (Galvanizer). This produces a burst-fire submachine gun.
Lower Tool
Edit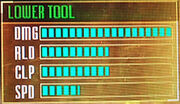 The lower tool of Intimid8r consists of a Military Engine with a Conic Dispersal Tip (Shotgun). This produces a reliable shotgun. In addition to damage, it also has a knockback effect.
This weapon can't be built or used in Classic mode.
Appearances
Edit
List of weapons, tools and abilities

All Games
Dead Space: Extraction only
Dead Space 2 only
Dead Space 3 only
Dead Space: Aftermath and Downfall only
Dead Space Mobile only
Other tools
Abilities
Community content is available under
CC-BY-SA
unless otherwise noted.