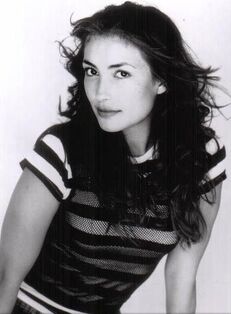 Iyari Limon (born July 8, 1976) is a Mexican-born actress who provides the voice and likeness for Nicole Brennan in Dead Space and Dead Space: Extraction.
Biography
Edit
Iyari Limon was born on July 8, 1976 in Guadalajara, Mexico, but by the age of one she and her parents had made Southern California their new home. She began her acting career in 1995 with a guest appearance in an episode of "ER", followed by other significant guest roles on various TV shows including as a guest regular in on the MTV anthology series "Undressed." Her biggest break came in 2002 when she was offered the part of Kennedy, one of the 'Slayer Potentials' on Buffy the Vampire Slayer.
She guest starred in the 2004 premiere episode of the Emmy award-winning series "Without a Trace". Her most recent roles include L.A. Noire, and her portrayal of Nicole Brennan in Dead Space and Dead Space: Extraction.
Iyari Limon, Jesse Head, and Sonita Henry have all acted in Without a Trace. Limon and Head had roles in the same season of Without a Trace. In fact, they guest starred in consecutive episodes; Limon was in the first episode of the show's fourth season, while Head was in the following episode. They have also had small roles in the show ER, although they were guests in different seasons.
Limon, Head, Keith Szarabajka, and Sunil Malhotra have all appeared in ER.
Iyari Limon and Keith Szarabajka also did voicework in the video game L.A. Noire.
Although English is her primary language, she's fluent in Spanish since being raised in a Spanish-speaking household all her life. She's also semi-fluent in French, and being of Spanish, French, German, and Mexican-Indian descent, for her it seems only right to be able to speak some of these languages.
She also is very well traveled and has lived abroad in such countries as Australia, France, Mexico, and England.
In 2001, she hosted Radio Disney's World Tour 2001, traveling to all the major cities in the U.S.
Because of supportive fan mail, she continued appearing in all of the last 13 episodes of Buffy the Vampire Slayer's 7th and final season. Being the "Scoobie Gang's" latest addition has a brought a whole new fame to Iyari, who now makes personal appearances at conventions around the world.
She also appeared in numerous television commercials such as SBC, Always, Toyota, Dr. Pepper, etc.
External links
Edit
Community content is available under
CC-BY-SA
unless otherwise noted.