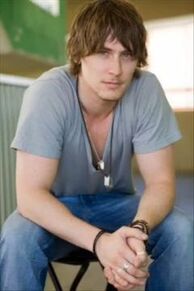 Jesse Head (born September 1, 1983) is an American actor who provides the voice and likeness for Noah Pawling in Dead Space: Aftermath.
Biography
Edit
Jesse Head was born in Seguin, Texas on September 1st, 1983. His first roles were in Southern Man, The Pretender, and the short lived WB series Katie Joplin. He later played opposite Mary-Kate and Ashley Olsen in their show So Little Time.
He has acted in several crime-drama television shows, including: CSI: Miami; Without a Trace; NCIS; and Cold Case. Jesse had a guest starring role on the WB hit summer series "Summerland", and has most recently had roles in Firebreather and Dead Space: Aftermath. His latest role is in the movie Easy Rider: The Ride Back as Young Morgan Williams.
Jesse Head shares a birthday with his fellow Dead Space: Aftermath co-star, Ricardo Chavira. Coincidentally, they are also from the same state.
He and his other Aftermath co-star, Gwendoline Yeo, have guest starred in Judging Amy and Hannah Montana.
Jesse Head, Iyari Limon, and Sonita Henry have all acted in Without a Trace. Head and Limon both had roles in the same season of Without a Trace. In fact, they guest starred in consecutive episodes; Head was in the second episode of the show's fourth season, while Limon was in the season's opening episode.
Jesse, Iyari, Keith Szarabajka, and another one of Jesse's Aftermath co-stars, Sunil Malhotra, have all had small roles in the show ER, although they were guests in different seasons.
In addition to Without a Trace, Jesse and Sonita have been in Cold Case and NCIS.
Kelly Hu also guest starred in NCIS, the same as Head and Henry.
Head, Keith Szarabajka, Sonita Henry, and Sunil Malhotra have all appeared in Cold Case.
In fact, Jesse and Keith have both appeared in ER, Crossing Jordan, Cold Case, and Numb3rs.
Head, Hu, and Szarabajka have all been in Numb3rs.
Jesse Head, Tanya Clarke, and Tonantzin Carmelo have all acted in CSI: Miami.
External Links
Edit
Community content is available under
CC-BY-SA
unless otherwise noted.