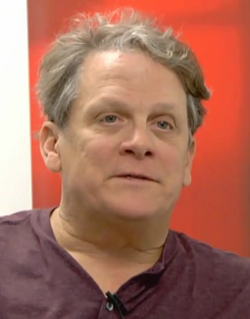 Keith Szarabajka (born December 2, 1952) is an American actor and voice artist who portrays Terrence Kyne in Dead Space and Dead Space: Downfall, and General Spencer Mahad in Dead Space 3.
Biography
Edit
Keith Szarabajka was born on December 2, 1952 in Oak Park, Illinois. Other roles include the narrator Detective Herschel Biggs in the video game L.A. Noire, the Chaos Advisor and Captain Apollo Diomedes in Relic Entertainment's Dawn of War II: Chaos Rising and Warhammer 40,000: Dawn of War II – Retribution, Laserbeak in Transformers: Dark of the Moon, Harbinger in Mass Effect 2 and the Didact in Halo 4.
Keith Szarabajka and Jesse Head have both appeared in ER, Crossing Jordan, Cold Case, and Numb3rs.
So far, only Szarabajka and Gunner Wright have provided their voices to all mainstream titles of the series.

Only Wright have been voicing the same character, while Szarabajka have voiced two, in two different games (Terrence Kyne and Spencer Mahad in Dead Space 1 and 3, respectively).
Szarabajka narrates the "Previously on Dead Space" videos in Dead Space 2 and 3, as Terrence Kyne, making Kyne the second character to have appeared in all mainstream titles, albeit unofficially.

In fact, Keith, Jesse, Sonita Henry, and Sunil Malhotra have all guest starred in Cold Case.
In addition to Keith and Jesse, Iyari Limon and Sunil Malhotra have also appeared in ER.
Keith Szarabajka and Iyari Limon both did voicework in the video game L.A. Noire.
Szarabajka, Gwendoline Yeo, Ricardo Chavira, and Sunil Malhotra have all been in 24.
Keith, Jesse Head, and Kelly Hu have all been in Numb3rs.
External link
Edit
Community content is available under
CC-BY-SA
unless otherwise noted.