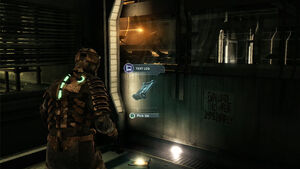 Logs are scattered throughout the USG Ishimura and USM Valor and are used to communicate objectives and provide background on the events that have unfolded aboard the ships.
Classification
[
]
The logs come in three different types:
Video logs - These are usually security feeds and video diary entries and are also how Isaac Clarke usually receives communications from Zach Hammond and Kendra Daniels.
Audio logs - These are audio recordings of communications between various members of the crew and also messages that have been left behind by those who have been cornered.
Text logs - These are simply text files usually of emails and the like and are the least common of the three.
List of logs
[
]
Chapter 1
[
]
Video Logs

[

]
Audio Logs

[

]
Text Logs

[

]
Chapter 2
[
]
Video Logs

[

]
Audio Logs

[

]
Text Logs

[

]
Chapter 3
[
]
Video Logs

[

]
Audio Logs

[

]
Text Logs

[

]
Chapter 4
[
]
Video Logs

[

]
Audio Logs

[

]
Text Logs

[

]
Chapter 5
[
]
Video Logs

[

]
Audio Logs

[

]
Chapter 6
[
]
Video Logs

[

]
Audio Logs

[

]
Text Logs

[

]
Chapter 7
[
]
Video Logs

[

]
Audio Logs

[

]
Text Logs

[

]
Chapter 8
[
]
Video Logs

[

]
Audio Logs

[

]
Chapter 9
[
]
Video Logs

[

]
Audio Logs

[

]
Text Logs

[

]
Chapter 10
[
]
Video Logs

[

]
Audio Logs

[

]
Text Logs

[

]
Chapter 11
[
]
Video Logs

[

]
Audio Logs

[

]
Chapter 12
[
]
Video Logs

[

]
Audio Logs

[

]
Text Logs

[

]
See also
[
]