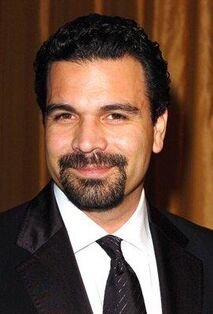 Ricardo Chavira (born September 1, 1971) is an American actor who provides the voice and likeness for Alejandro Borges in Dead Space: Aftermath and John Carver in Dead Space 3.
Biography
Edit
Ricardo Chavira was born on September 1, 1971 in San Antonio, Texas. Some of his earlier roles were in NYPD Blue, Philly, and 24. He is best known for his portrayal of "Carlos Solis" in Desperate Housewives, and his most recent roles include Piranha and Dead Space: Aftermath.
Ricardo Chavira shares a birthday with his fellow Dead Space: Aftermath co-star, Jesse Head. Coincidentally, they are also from the same state.
Chavira's other Aftermath co-star, Gwendoline Yeo, had a recurring role on Desperate Houswives as his character's troublesome housemaid.
They also had roles on JAG, in addition to Curt Cornelius and Rick Cramer.

In addition, Chavira and Yeo also appeared in NYPD Blue and 24.

He is of Mexican, German and Irish descent.
Chavira holds an MFA in Acting from University of California, San Diego (UCSD).
External Links
Edit