Shootbanger
Weapon Information

Manufacturer:

Unknown

Model:

Unknown

Type:

Cost:

500 Tungsten,
1,850 Semiconductor,
2,850 Scrap Metal

Technical Specifications

Ammunition

Damage (DMG):

???

Reload Speed (RLD):

???

Ammo Capacity (CLP):

???

Rate of Fire (SPD):

???

Weapon Parts

Upper Tool:

Upper Tool Tip:

Rail accelerator

Lower Tool

Lower Tool Tip:

Default Tip

Frame:

Attachment 1:

Ammo Sweeper

Attachment 2:

Safety Guard

Upper Tool Circuits:

Empty

Lower Tool Circuits:

Empty

 

The Shootbanger is a weapon that appears in Dead Space 3. The weapon must be built at a Bench after finding the blueprint.
A Bullpup Rifle and Grenade Launcher, modified to protect the user from damage and grab ammo.
The blueprint for this weapon can be found during Chapter #.
Technical Specifications
Edit
Statistics
Edit
This section is still under-development. More information will be added soon. Ammo: Has 30 upper and 4 lower.
Upper Tool
Edit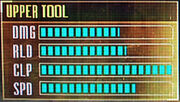 The upper tool of Shootbanger consists of a Military Engine with a Rail Accelerator Tip (Bullpup Rifle). This produces a fully-automatic rifle with deadly precision.
Lower Tool
Edit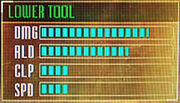 The lower tool of Shootbanger consists of a Survey Charge with its Default Tip (Grenade Launcher). Fires explosive grenades.
This weapon can't be built or used in Classic mode.
Appearances
Edit
List of weapons, tools and abilities

All Games
Dead Space: Extraction only
Dead Space 2 only
Dead Space 3 only
Dead Space: Aftermath and Downfall only
Dead Space Mobile only
Other tools
Abilities
Community content is available under
CC-BY-SA
unless otherwise noted.