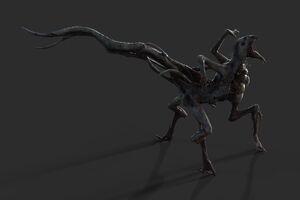 The Swinger was an early prototype Necromorph, developed for the first Dead Space. Due to time and budget constraints, the creature was eventually cut entirely from the game.
According to the creative director of the original game, the creature made up of two parts, the main body and tail part composed of two tentacles, from which the Swinger would have used to swing across ceilings. Once the tail had been dismembered, the Necromorph would crash onto the ground, split into two and begin its chase to the player with its limbs. Similarly to the Brute and the female Slasher (and the Spitter in sequels), the Swinger was able to spit corrosive acid from sacs located in the creature's throat, which presumably acted as a weakpoint.
https://www.artstation.com/artwork/eBmO3
Community content is available under
CC-BY-SA
unless otherwise noted.