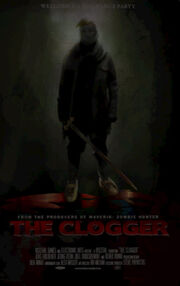 The Clogger is a film in the Dead Space universe. Based upon the posters for the film, one can deduce it's about a Clog wearing serial killer, and uses a sword as his main weapon.
The name of the film is also an inside joke, as the inspiration for this poster comes not from the Dutch shoes, but from a persistent problem with the Dead Space team's office bathroom. [1]
An advertisement for a sequel to The Clogger (The Clogger Part Deux) can be found in the first chapter of Dead Space 3. This seems more related to the bathroom issues as it features a man in a hoodie with sunglasses holding a dirty plunger. Another reference to the Dead Space team's inside bathroom joke.
The Clogger (Log) is also a reference to the same inside joke.